About the Artists
We, at White Buffalo Collectibles, have collected the artwork of many talented artists including the Navajo, Zuni, Hopi, Ute, and Northwest Indian Tribes. In our travels for that perfect piece of art we have met many of the artists and would like to provide a little information about some of them.
---
Alvin Yellowhorse is from the small town of Lupton, AZ. He learned silver smithing from his father, Frank Yellowhorse. Alvin is well known for mastering a style of inlay that is called "Channel Inlay" and still another called "Corn Row Wave Inlay". He has been recognized by the Smithsonian Magazine, the Art Boo Arizona Magazine and has won several Blue Ribbons for his work at the Sante Fe Indian Market competitions.

Westly Begaye is a full blooded Native American Indian born in 1965 into the Navajo Nation. Westly Married into the Acoma Pueblo and he was inspired to continue the family tradition of working with clay from the late Marie Francis Vallo (wife). She taught him all the fundamentals of hand coiling Acoma styled Pottery. Westly has been working with art since age 12. However, he has been working with pottery since 1994. Westly specializes in the handmade and hand-painted Acoma style pottery.

Effie Calavaza, a Zuni artist from New Mexico, is one of the most collected and most beloved Native American artists. But she is also one of the bravest. Effie went all the way to the Supreme Court of the United States of America to obtain full copyright of her art work to stop those from importing fake pieces of her work. She specializes in sand casting and incorporates large stones with her snake designs. She began silver smithing in 1956 after learning from her husband, Juan Calavaza. Her work is stamped EFFIE C. ZUNI which is the family hallmark used by Effie and her daughters. Despite many rumors, Effie is still making jewelry and her work is in demand world wide.

Harlan Coonsis is a Zuni artist who consistently wins awards at major shows. His jewelry includes Silver Inlaid with Coral, Lapis, Jet, Turquoise, Mother of Pearl and many other stones.

Tony Lorenzo is an upcoming Zuni Pueblo artist. His creations would certainly make a beautiful centerpiece to display any where.
Ben Livingston, a Navajo from New Mexico (Black Rock), was born May 18, 1954. He was born into the Black Sheep Clan for Tachini. He enjoys horseback riding, hunting and fishing. He says "I've been living in Breadsprings, New Mexico, all my life. I have a wife and four children with two grandchildren. I started carving when I got out of high school. Most of the carvings I do relate to Navajo people, what are sacred to them and have some meaning to them." Breadsprings is a small community south of Gallup.

Lane Ayo, an artist from the Creek Nation. The name is also spelled La Ne Ayo or LaNeAyo.

"Master Artist" Bill Rabbit, is self-taught in jewelery making & acrylic painting. He does no preliminary sketching, allowing color to shape his paintings. Viet Nam taught him that life's moments are precious and he is especially pleased to be working at what he truly loves. He now lives within the Cherokee Nation in N.E. Oklahoma. Cherokee Census Number C018530

Tracie Rabbit through her artwork she tries to convey the contemporary Native American woman, each having her own identity, with remembrances of her past. She holds a bachelors degree in Business Administration from Northeaster State Univ., in the heart of the Cherokee Nation. God and family have always been a mainstay in her life. With them, all things are possible. Cherokee Census Number C0091452.

Ernest Gantner Census Number 210392

Brenda Smith Census Number 457032

Tim Largo Census Number 423125

Darin Bill is a famous Navajo artist who has a very recognizable style. He only creates "heavy" bracelets which is why he is so popular with the guys but are equally enjoyed by both men and ladies. The bracelets are very masculine and don't bend easily but can be adjusted to fit your wrist. Here you will find some of his Sterling Silver bracelets, some have gold fillings. **** May 2003 - We at White Buffalo Collectibles are saddened at the passing of Darin James Bill, in early May 2003. He is the well known Navajo silversmith who created these beautiful bracelets. He was born August 6, 1965 in Sacaton, Arizona a part of the Towering House People Clan for the Mexican People Clan. The obituary was posted in the Gallup Independent Newspaper.

Hopi artists, Marty & Elvira Naha-Nampeyo, are an internationally known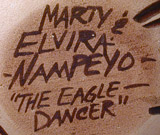 husband and wife team who are quickly rising to the top. Best known for red ware which was introduced by Elvira's father, Tom Polacca. Elvira is the great-granddaughter of Nampeyo and Marty is the son of Emma Naha making them descendants of a long line of potters. Their pottery has been shown throughout the Southwest and has been seen in many publications and museums dealing with Indian art including being featured in the Museum of Indian Arts & Cultures, Santa Fe, NM. Each of their pieces represent their closeness with the Hopi way of life which makes their pottery come to life.

Tommy Singer, a well regarded Navajo silversmith, is known throughout the world for his jewelry work. Tommy started his jewelry making career when he was 21 years old. His style of "chip inlay" became popular when he discovered the mosaic design inlay by experimenting with left over chips of many stones including turquoise. If you are lucky enough to find one of his chip inlay pieces be assured it is one of very few left because he went back to his traditional overlay style.
| | |
| --- | --- |
| Ernest Benally, a Navajo jeweler, has made a name for himself in the world of Native American jewelry as someone with a great imaginative style. He's won many awards including first place in the jewelry class at the Heard Museum Guild Indian Fair and Market in Phoenix. | |
Lee Bennett, a Navajo artist, is well known for his exquisite craftsmanship working with silver and gold.

Sam Gray believes all Navajo Arts come from the life-style and spirituality. This legacy is handed down from generation to generation. Sam's jewelry making starts at his Grandmother's place. She and his mother came from the Zuni Clan people. They used to make jewelry in the "good old days". The Heartline bear and the Buffalo stamp are the family stamps. After he learned to make jewelry he started using the patterns and the buffalo stamp as his mark. He wanted his work to have a strong sense of harmony and hold a balance between contemporary and traditional jewelry. His overlay storyteller and stone inlay jewelry shows this harmony and balance. Sam is very thankful for all his mother and grandmother taught him.

Calvin Begay is an award winning Navajo artist specializing in inlay designs that reflect his Native American heritage. He was born in Gallup, New Mexico in 1965 and raised in Tohatchi, New Mexico. He has a unique ability to translate traditional Navajo inlay techniques into his style that reflects his Native American heritage. Begay's work is elegant, yet has a contemporary flair. Calvin's work is prized by clients and collectors, not only in the Southwest but throughout the United States and the world. In the artistry of Calvin Begay, the stunning beauty of the untamed West is reflected in the combination of color and design that create unforgettable pieces of wearable art.

Tommy Moore is a Navajo artist who is well known for his work with silver and turquoise. Anyone would be proud to wear one of his pieces.

Rose Pecos-Sun Rhodes is a Navajo/Jemez Storyteller artist. Her mother, Carol Pecos, taught her how to make pottery at a very young age as did Carol's mother. Carol's grandmother, Lupe Madalena Loretto, made figures in

the 1920's and passed the tradition on to her daughters. It was not until about 1974 that Carol started making the Storytellers when she discovered how much fun it was to create them. In the 1980's she started making the Storytellers on a clay base covered with children.
Rose started following the family traditions in the 1970's and has been noted for her Navajo-style Storytellers painted in the traditional Jemez brown, beige and terra-cotta polychrome. Instead of placing her figures on a clay disc she has often extended the long skirt of the female Storyteller to form the base on which the children are placed. Her trade mark is a little boy wearing a cowboy hat which is found on all of her Storytellers.
"My husband, Sun Rhodes, who is an Arapaho, used to put his cowboy hat on our little son, and I wanted to capture that look in clay, but it did not fit in with the Pueblo style, so I started doing a Navajo version, with little boys in cowboy hats and little girls holding traditional Navajo wedding baskets. I make a point of putting in traditional Navajo cradleboards and the correct detailing on the little girl's sashes." That was her inspiration for her now famous trademark.

Tom Vail a Navajo craftsperson who specializes in Horse Hair Pottery. Horse Hair pottery is made by using hair from the tail and mane of a horse. After one or two firings, the piece is again put back in a kiln and brought to a certain temperature. It is then removed gently and carefully (the thing's pretty hot!!!). Horse hair is laid on the surface where it curls and burns. The resulting carbon being drawn into the surface of the pot creates the wonderful designs and patterns. The fine lines are created with the hair from the mane and the thick lines are from the tail. Please don't laugh at any horse you may see with a short tail...!! Every pot is original and one of a kind. Census # 404437.

Kinlicheni (Native name Hanna Jay) & Johnnie Jay: Some of the most beautiful pottery in the world comes from the Santa Clara Pueblos. We have found a line of pottery which is done in the Santa Clara "style" which has a more reasonable price for those wanting to display this style of pottery. This pottery is made from homemade sand cast, kiln fired and is painted on slip. Deep carved pottery is the foundation of traditional Santa Clara pottery and these pieces depict this same style. The artist, Kinlicheni (Native name Hanna Jay), is of the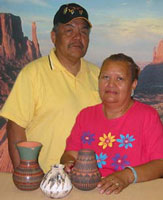 Red House People of the Rainbow clan and has been a potter for over 21 years. Her grandmother made Santa Clara style pottery before her. Marrying into this long tradition, Johnnie Jay of the Tangle clan / Fruit clan has been creating beautiful pieces himself for over 12 years. Hanna and Johnnie live near Hovenweep in the Four Corner area on the Dine' reservation. They are full blooded Navajos and they have incorporated their Navajo culture into each of their potteries. Their works of art are original creations and have been collected by people from all over the United States as well as other countries. To make their beautiful creations, Hanna and Johnnie use sandcasted molds and trade for the mud and materials used to make their own glazes. Anyone of these pieces would be a welcome addition to your Native American Collection.

Noreen Simplicio is from the Zuni Pueblo and had her first lesson in pottery making in 1977, at the local High School by instructor Jennie Laate, an Acoma woman. She specialize in seed-bowls with lizards, miniatures bowls and vases with scenes of ancient pueblo dwellings and tiny figures of pueblo
inhabitants. She received an Award of Excellence for her work in February, 1988, when she entered her first competitive Art Show in Palm Springs, California. At the All Zuni Artist Show in the Museum of Northern Arizona in Flagstaff,in May, 1989, she received four First Place blue ribbons, one second place and one third place. These are only a part of her growing list of awards.

Doreen Lansing's work is included in Theda Bassman's book "Treasures of the Navajo". She is well known for her Navajo Design Pottery and she hand signs each of her pots.

Loretta Silas, a Hopi artist, is the daughter of Roberta Silas. Hopi pottery goes back more than a thousand years. By the 1800s trading and production of pottery almost disappeared. It was brought back to life by the tourism market after the railroad went through Arizona in around 1880s.

Diane Aragon is from the Laguna Pueblo. Her etched pottery is a "must see".

Ella Cadman, a Navajo artist, is well known for her pottery.

Paige is a potter from the Ute tribe, we have several of her beautiful pieces.

Deldrick Cellicion is a Zuni artist who's artwork is highly Prized & sought after by collectors Worldwide. His pottery is a must for any collector and will make a fantastic addition to your home.

Marcus Homer, a Zuni Pueblo, was inspired by his ancestors to continue the family tradition of pottery making. His hand coiled corn meal bowls and fetish bowls are his just part of his unique style.
| | |
| --- | --- |
| Tony Lorenzo is a Zuni artist and his lizard pottery is simply beautiful and a must see. | |
Shirley Calabaza's Santo Domingo (Heishi) Pueblo Jewelry speaks for itself. One of her Santo Domingo necklaces would be a piece that anyone would be proud to wear.

Silver Hawk is Cherokee and well known for his original "feather bone" jewelry. Each piece is hand-carved from Bison bone, hand-painted and signed to make his unique jewelry. His feathers represent various birds of prey and are signed by Silver Hawk.

Leta Shale makes her home in Queets, a tiny Quinault Indian village, where life revolves around the traditions and culture of her people. She is a basketmaker who uses beargrass and western cedar (Thuja plicata) to put her family's design of a whale and bird on her baskets. (click here to see a nice image of Leta)
Andy and Roberta Abeita, from the Pueblo of Isleta, have been creating beautiful creations for many years. Andy hand carves the sculptures and fetishes while his wife and partner, Roberta, adds the final touches to each using feathers, beads, engraving and more. (click here for more information about this artist)
---